ENGRAVING OF GIFTS PURCHASED THROUGH US ARE  ABSOLUTELY FREE!
Engraving plates bought for take out do have a charge. See PERSONALIZE GIFTS & ENGRAVING/  under the SHOP MENU.
WE ENJOY GIVING MEANING TO YOUR ENGRAVING BY ADDING PICTURES AND COLOR TO THEM AT NO EXTRA CHARGE. SO, IF YOU WISH TO ADD A PICTURE  OR A WATERMARK TO YOUR PLATES. PLEASE, EMAIL YOUR THOUGHTS WITH ATTACHMENT TO: Medalmedic@yahoo.com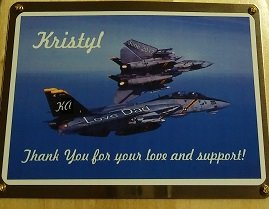 Love Dad on the plane and her initials on the tail. How cool is that!