PADDLE CAPT HOOK 30" W/4 ANCHOR HOOKS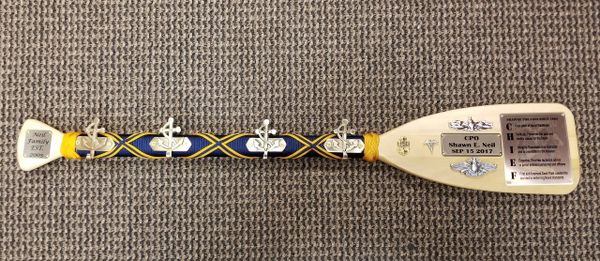 PADDLE CAPT HOOK 30" W/4 ANCHOR HOOKS
4 Anchors hooks make this paddle a great hanging space for the office. Hang your keys, cover and  coat in the same place all the time. 
Pictures of the family  or your buddies from the old command can be placed on the paddle part to make those memories last. 
Colors  and hooks change according to military service.
THESE PADDLES ARE STUNNING PIECES OF ART. SUBLIMATED METAL PLATES CAN HOST ANY PICTURE YOU CAN UPLOAD / EMAIL TO US OR THE STANDARD PICTURE DEPICTING U.S. MILITARY SERVICES. ALL MILITARY SERVICE SEALS,AND  ENGRAVING INCLUDED.